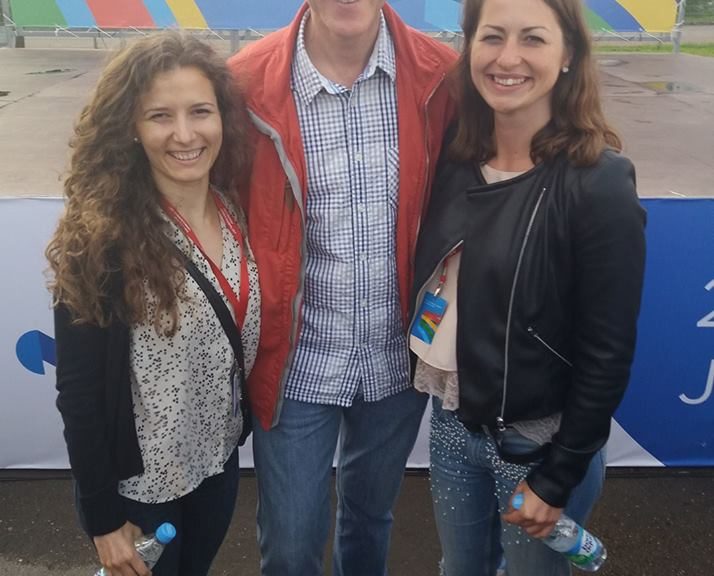 IOAPA Members at the FISU Volunteer Leaders Academy
IOAPA Members at the FISU Volunteer Leaders Academy
FISU Volunteer Leaders Academy in Kazan
The International University Sports Federation's (FISU) Volunteer Leaders Academy takes place for the first time on 2–8 July 2017, as a legacy of Kazan 2013 Summer Universiade. 91 FISU member federations are represented with 110 participants. The aim of academy is to inspire young people who are involved in university sport to be the "leaders of tomorrow", pursuing the motto "Excellence in Mind and Body".  Participants from all over the world are accommodated in the Universiade Village while the educational activities are hosted in the Volga Region State Academy of Physical Culture, Sport and Tourism (FISU International Education Centre during the Universiade), which provides a special atmosphere to the event.
Experts from FISU, the International Olympic Committee (IOC), the World Anti-Doping Agency (WADA), Universiade and FIFA World Cup Organising Committees, EF Education First, Foundation of Sports and Olympism, Serbian Olympic Committee and JTA Company share their experience and knowledge in sport volunteering and leadership with the volunteer leaders. Lectures, workshops, panel discussions, networking activities, group discussions and projects are organised throughout the 7 days of the academy, which help the participants to improve their skills and competencies that are essential for the acting a leader in sport.
The academy has been opened on 3 July with a very colourful ceremony by FISU President Oleg Matytsin, President of Republic of Tatarstan Rustam Minnikhanov, Mayor of Kazan Ilsur Metshin and the Ambassador for the Winter Universiade Krasnoyarsk 2019, Alexei Yagudin.
Participants have the chance to address questions and recommendations to FISU, IOC and other represented organisations in sport and volunteering, as well as to share their experiences and projects. Different questions around Olympism, the Olympic Games and volunteering at Olympic events are discussed during the workshops and panel discussion. Head of Sport Partnerships and Coordination at the IOC, Jenny Mann shared her own story about volunteering and gave advices to the young volunteers how to contribute to the organisation of a successful event.
The young volunteer leaders have the privilege to discover the Russian and Tatar culture, as well as to learn about the Universiades and Olympic Games through a guided tour in the world's only Universiade Museum, which has a rich collection about these events. The final outcome of the academy is to prepare a draft program for the International Day of University Sport, which is celebrated every year all around the world on 20 September.
The academy is attended by the IOAPA Country Coordinator for Hungary, Anna Edes and IOAPA member from Uruguay, Joaquin Mones Pritsch.