IOAPA Sessions
IOAPA Sessions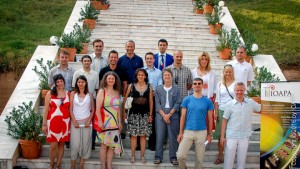 The IOAPA organizes its official session every two years at the IOA premises in Ancient Olympia. This session is organized entirely by the IOAPA and hosted by the IOA. The session lasts for six days and focuses on the continuous Olympic Education of the IOAPA members. The session is at the same time the General Assembly of the Association, where the business of the Association is conducted, officers are elected, the ongoing work of the IOAPA is evaluated and goals for the future are set. In addition, it provides a great opportunity to return to Olympia and the IOA, meet new members and renew old friendships.
Read the IOAPA 2017 Session Report (pdf format).
The 15th IOAPA Conference was held between 15th and 22nd July 2017 at the IOA premises in Olympia.
We look forward to meet many of the members in Olympia for the next Session in 2019. Detailed information about participating in this session has been sent via our IOAPA email group.
Save